HYRD UPCOMING EVENTS
IMPORTANT ANNOUNCEMENT
Along with the Town Manager, and other Town of Halifax Offices, the Halifax Youth and Recreation/Parks Department has always put our community's safety as a top priority. As details regarding the coronavirus pandemic continue to be released and change, we have made the decision to CLOSE HOPS PLAYGROUND Immediately, effective March 14th, 2020.
Also, in accordance with Governor Baker's Stay-at-home advisory, ALL Halifax Youth and Recreation Department Programs and Events have been temporarily suspended, the Halifax Elementary School Gymnasium will remain CLOSED in accordance with the Halifax Elementary School's Schedule and the Massachusetts State Department's recommendations.
In the meantime, we are still busy working to remain engaged in our community. One way that we have been able to do this is through our Facebook Page, so please be sure to "follow it" and set your notification settings to "standard" so that you will get the most recent information that we post throughout each day.
We appreciate your understanding and cooperation during this time.
Your Friends,
The Halifax Youth and Recreation Department
*Registration forms are available to print on the "Forms" page of this website*
TO VIEW EVENTS (be sure to scroll all the way to the bottom of the page and also to refresh your browser in order to get the most accurate information)Please do not message our Facebook Page for answers to any questions that you may have, as this page is to POST information regarding upcoming events only and messages are not checked frequently on that page even if the page posts frequently. Thank you in Advance!!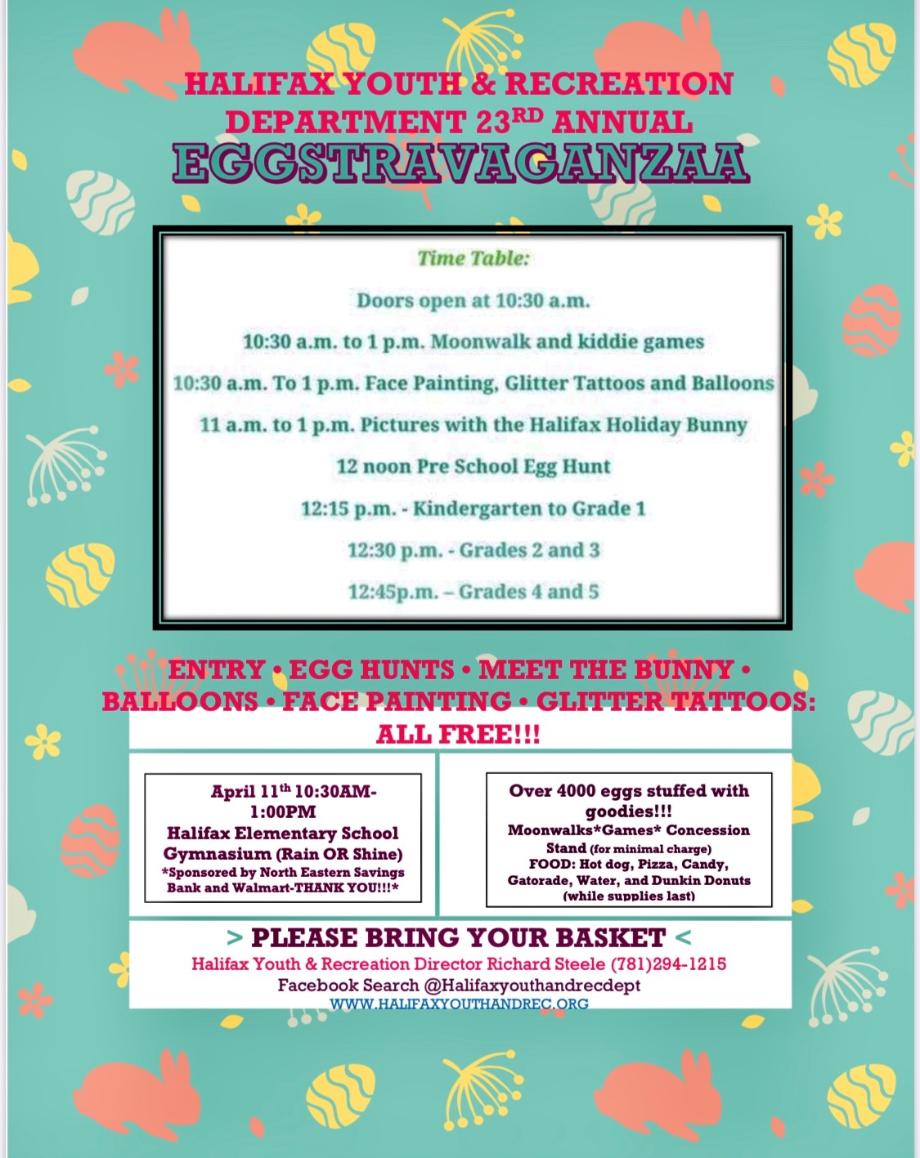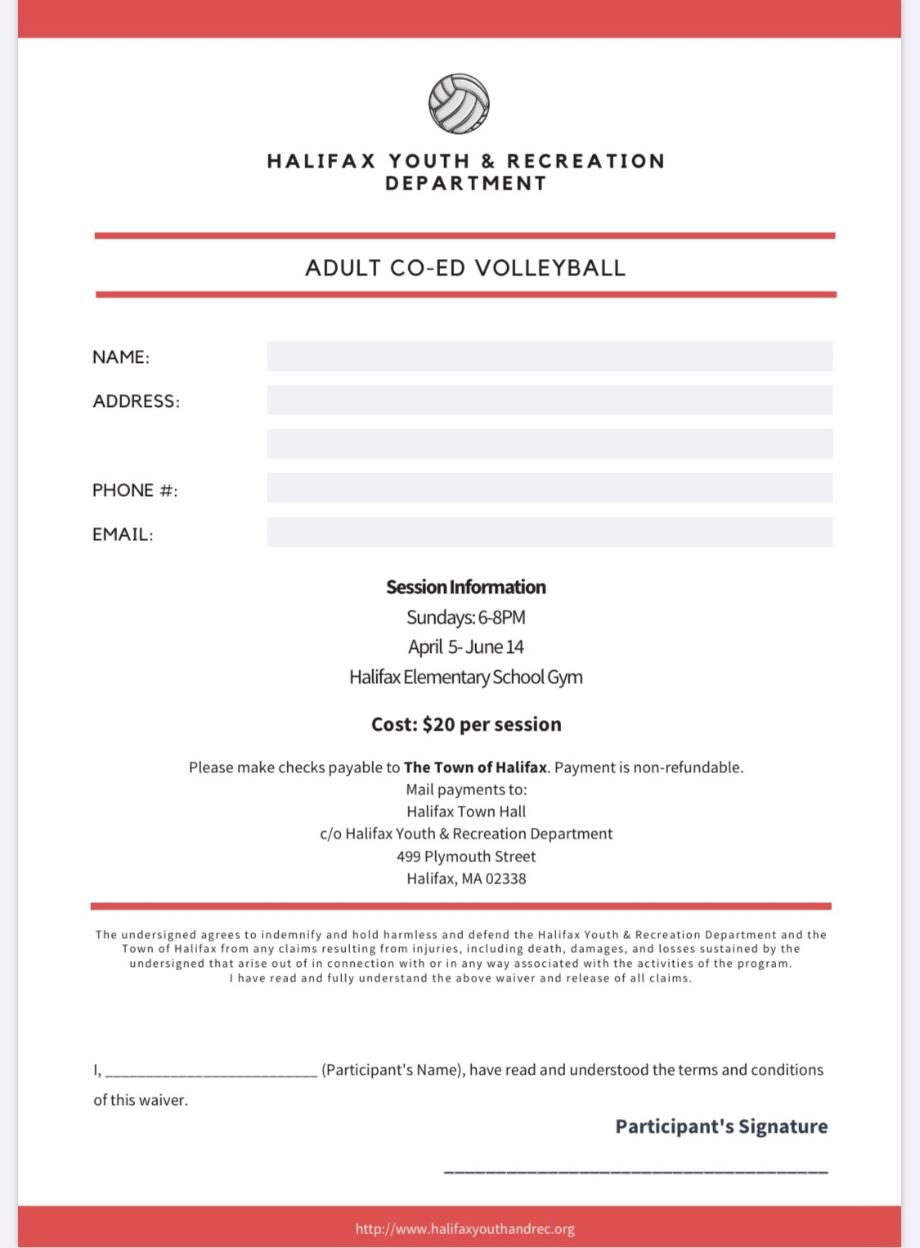 Important reminders for all HYRD upcoming events and programs.
HYRD expects all attendees (children and adult) to follow the HYRD ZERO TOLERANCE POLICY (can be viewed in full on the Policies Page of this website). In short,: 1. Be Respectful: Treat everyone with respect-no hitting, biting, or other violent behavior. No name calling or put downs. Remember to say please, thank you, I'm sorry, and you're welcome. Lead by example.2. Be Honest: Tell the truth and say what you mean.3. Be Accountable and Responsible: Own your actions and words. Accept your consequences and apologize for them. Think before you act.4. Be Grateful: Be thankful for what you have5. BE KIND: Be nice to yourself and others
Halifax Youth & Recreation Department Afterschool Programs 2019 - 2020
Please find below all of the Afterschool Program's Information Sheets and Registration Sheets for enrollment of students. They are also available in PDF form located on the "FORMS PAGE"for you to print out and submit to your child's homeroom teachers.
Important information that is standard across all programs:
All students interested must complete the registration form specific to the program of interest send in payment to the school. The registration form must be signed by a parent or guardian and return it with payment to school in an envelope marked with the Afterschool Program you are signing up for. Checks should be made payable to the Town of Halifax and delivered to the homeroom teacher. Please review "HYRD Policies Page" for all information regarding enrollment, pricing, discounts, refunds, and more.


HALIFAX YOUTH AND RECREATION DEPARTMENT
5th and 6th Grade Dance
For Students living in Silver Lake District and Surrounding Towns
WHEN:NO DANCE CURRENTLY SCHEDULED
TIME: DOORS OPEN AT 6:30 PM MUSIC STARTS AT 7PM PICKUP IS 9PM (PARENTS PLEASE BE PROMPT FOR PICK UP)



COST:$8 along with a registration form for each student- They are sent home from the school so be sure to check back packs. IF you don't have a form then the Parent/Guardian can sign the student in at the door.

Acceptable forms of entry payment are: checks, money order, and cash.

Personal checks should be made out to, Town of Halifax.

Students will need cash to purchase items from the concession stand.
Halifax Elementary School Gym.



Chaperones are local teachers and Recreation Staff and are corried!
The Dances are supervised. Children are not allowed out of the building unless a parent is picking them up. Drinks,GUM, and outside Food are not allowed in the building. Parents will be responsible for picking up their children in the gym lobby promptly when the dance is over. Halifax Youth and Recreation reserves the right to take disciplinary action against any attendees who do not adhere to HYRD Policies. We want everyone to have a great time, So remember: Follow the rules regarding zero tolerance(policies page)-Be kind to one another and have fun!
Music, Games, and Prizes.
Pizza ($2.00), Drinks, and Candy Bars $1.50
Sometimes we offer Glitter Tattoos $3 per tattoo (hypoallergenic).
For more info please call Richard Steele Youth and Recreation Director at 774 281 0096 or 781-294-1215 or Christine Herrick Program Coordinator (774)283-2965. Please allow at least 2 business days to return your call if there is no answer. Please do not call the Elementary Schools or the Halifax Town Hall. You can also find us on facebook for current updates.
IF YOU ARE INTERESTED IN SIGNING UP FOR ANY OF OUR CURRENT OR UPCOMING EVENTS PLEASE VISIT THE FORMS PAGE>Current event forms AND FOLLOW THE INSTRUCTIONS ON THE FORM THAT COINCIDES WITH THE EVENT YOU ARE INTERESTED IN.
Don't forget to check out the "links we like" page for other great programs in our community!!!